A LOVE FOR HAIR, A LOVE FOR CHANGE
Ours is a story of passion, drive, and determination—and change!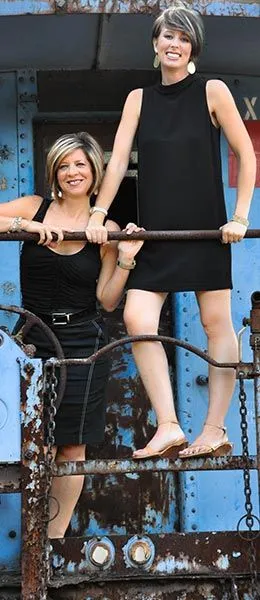 In 2003, Samsara Salon and Spa opened its doors. We both joined as service providers, Melissa as a stylist, Betty as a massage therapist. The only thing we had is common was a desire for change: something new and exciting that could turn into a last stop for our careers. We were looking for a place where we could stay and grow. At that time, we did not know each other because we worked in separate departments and barely interacted. We were just two professionals who worked in the same salon.
One year later, a change in leadership left our salon without direction. Fight or flight pushed the two of us to step up and use strengths we didn't realize we had to run the salon as managers. We found things in common, such as a strong work ethic, drive, and motivation, along with complementary strengths, such as Betty's love of people, attention to detail, and corporate experience paired with Melissa's passion for hair, natural leadership abilities and creative ideas. We soon realized that we could make the perfect team to run the salon. The first step was to prove to ourselves, our coworkers, and our customers that this was a journey worth taking together . . . and what a journey it's been!
After enrolling in a 4-day intensive business workshop for salon owners and managers, we set out to learn what we didn't know—which was everything! We learned that we needed to make a lot of changes if we were to become a truly stable, successful, and professional business. Thus began our life of change and a journey of continuous evolution and growth. Our transition from coworkers to managers of coworkers wasn't easy! We had a salon and a spa to manage—3360 square feet of business! We became sponges for knowledge, seeking expertise and assistance with our newly found leadership roles.
By 2008, we had put years of blood, sweat, and tears into our growing business. We were managers who were invested and passionate about this industry and our salon's potential, and we had developed a love for the team that had stuck by us through the years of transition. Neither of us ever had a dream to own a salon, yet after learning the salon was going to be sold, we knew that it was not an option to hand this business to someone else! This drove our decision to become salon owners—not of any salon, but of THIS salon. We took a leap of faith and jumped off that cliff—and flew right into more change!
As new owners, we continued to build systems, create the customer experience, cultivate our dream team, broaden our horizons, and embrace what we learned from working beside some of the best salon professionals in the industry. However, it became clear that a single focus was best for our success. We needed to stick to what we do best—HAIR! We closed our spa in the fall of 2012 to pour our passions into our love of HAIR, and changed our name to Samsara Salon.
Through all this, we cultivated our love for hair and love for change! By May 2013, we reinvented our look, our logo, and our name to fit who we are today: Hair by Samsara! Our goal has never been to be better than the salon up the street, but to be the best salon we can be. We are our only competition.
We welcome you to see what we've created, to experience our culture, to benefit from the talents of our dream team, and to embrace the ever-changing world in which we live!
"When obstacles arise, you change your direction to reach your goal; you do not change your decision to get there." – Zig Zigler